The genemagic research package of cVA is supposed to be shareware, but currently, the beta version is available for free.

Genemagic package of cVA Contains:
1. cVA binary executable and GUI images.
2. Additional visual effect plugins.
3. Additional texture images and movies.
4. Manual document.

[Acknowledgement]
We genemagic research are not responsible for any problems or troubles caused by using this software. Please use this software on your own risk. Do you agree?

ĻI agree to this acknowledgement and download.


cVA1.0b Genemagic Version Interface.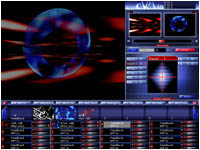 (c) chikako nitta & genemagic research.